Since the introduction of the 2021 Ram 1500 TRX, Hennessey Performance Engineering (HPE) has unveiled two different power upgrade kits for the performance off-roader. The first was a six-wheel-drive (6×6) variant, ditching the supercharged 6.2-liter HEMI HELLCAT V8 in favor of a tuned supercharged 7.0-liter (426 cubic-inch) HEMI HELLEPHANT V8 making 1,200 horsepower. Only three of those trucks are to be produced. The second was a 1,000 horsepower variant of the TRX, using the company's HPE1000 high-performance package for the HELLCAT engine. Now, the Texas tuning shop has released details on a third package, as well as video of the truck in action for the first time.
The new Mammoth 900 package, adds the company's well-known HPE900 upgrade has already seen its way in several Challenger and Charger SRT Hellcat models, as well as the Hellcat-powered Jeep® Grand Cherokee Trackhawk, under the hood of the 2021 Ram 1500 TRX. The package is rated to boost the HELLCAT engine's output to 912 horsepower and 873 lb.-ft. of torque. That is an improvement of 210 horsepower and 233 lb.-ft. of torque over the stock output.
The Mammoth 900 package comes with the following equipment…
• Lower Pulley Upgrade
• Upper Pulley Upgrade
• Ported Supercharger Snout
• High-Flow Fuel Injectors
• Crank Case Ventilation System
• HPE Calibration Upgrade
• Professional Installation
• Chassis Dyno Testing
• Road Testing (up to 200 miles)
• Hennessey Exterior Badge
• MAMMOTH 900 Exterior badges
• Serial-Numbered Plaques
• 3 Year / 36,000 Mile Warranty
On the dyno, in stock form, the 2021 Ram 1500 TRX puts down 607 horsepower and 593 lb.-ft. of torque to its rear wheels. After the HPE900 upgrade, the Mammoth 900 put down an additional 121 horsepower and 86 lb.-ft. of torque to the ground, equaling out to 728 rear-wheel horsepower and 679 lb.-ft. of torque. On the DynoJet, the Mammoth 900 sounds simply amazing when it hits its mid-range.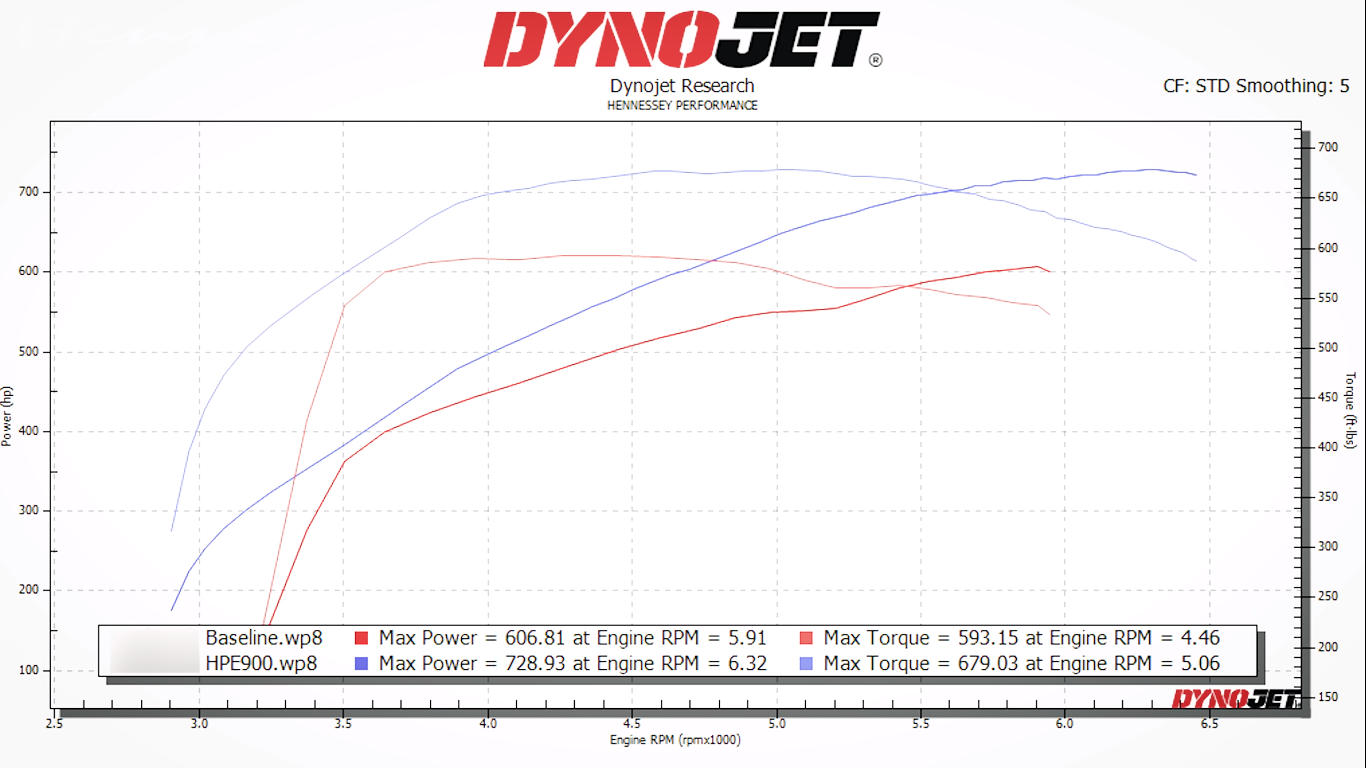 To show off the difference of power between the stock TRX and Mammoth 900, HPE also put a Mammoth 900 equipped TRX and a stock TRX to its track to see just how much faster is the HPE-built Mammoth. The Mammoth 900 did feature a set of 20-inch Hennesey wheels and 37-inch tires. According to HPE, the optional wheels and tires equal to a 50 horsepower loss on the dyno. On the track, the Mammoth 900 will pull about a 2 to 3 car gap on the stock TRX in the quarter-mile.
What do you think of the Mammoth 900 upgrade from HPE? Let us know in the MoparInsiders.com forums.