It was just over a year ago, during EV Day 2021, that we first learned about the four new architectures that Stellantis would be using going forward. One of those new platforms would become the basis for several new North American market vehicles moving forward: the STLA Large architecture.
An evolution of the award-winning "Giorgio" architecture that underpins vehicles like the Alfa Romeo Giulia, Alfa Romeo Stelvio, Jeep® Grand Cherokee, Jeep Grand Cherokee L, and Maserati Grecale, the STLA Large has been heavily modified to let Stellantis be able to offer a diverse base for a number of internal combustion engine (ICE) vehicles, hybrid electric vehicles (HEVs), plug-in hybrid vehicles (PHEVs), and battery-electric vehicles (BEVs).
The STLA Large architecture will now be the base for most D-segment and all E and F-segment unibody vehicles going forward, according to the company's EV Day 2021 presentation.
In recent months, we have seen just how diverse this platform will be with the introduction of several electric vehicles (EVs) showcased on it. So we thought we would take a look at a few of those vehicles, and look at just how different these platform siblings will be going forward.
Chrysler Airflow –
The Chrysler Airflow was first introduced to us as a technology buck at the 2020 Consumer Electronics Show (CES) in Vegas, just before the start of the pandemic, where it showcased the new Uconnect 5 UX infotainment technology. A more production-ready-looking model was showcased during the EV Day 2021 presentation and would later be unveiled at the 2022 CES show.
The Airflow Concept featured a dynamic design proportion, with a low ride height and a streamlined, two-tone roof line that achieves a seek profile for increasing range. A long wheelbase and wide track, along with large 22-inch wheels and tires, showed us a two-row crossover for more of an urbanite crowd.
These features were enhanced by a second version of the vehicle at the New York International Auto Show (NYIAS), dubbed the Chrysler Airflow Graphite Concept. While much of the original concept was retained, the Graphite showed us a Galaxy Black paint job (a contrast to the Arctic White one shown in Vegas) with Copper accents, while giving us a new look at a more modern Chrysler 'winged' badge going forward.
Both Airflow Concepts were powered by two 150 kW (201 horsepower) electric drive motors (EDMs), one in the front and one in the rear. Chrysler did state that the Airflow was capable of receiving larger capacity EDMs, offering the potential for future high-performance applications. It also said the Airflow's battery pack was designed to achieve up to 400 miles of range on a single charge.
Currently, the Airflow is slated for production as hinted by Chrysler CEO, Chris Feuell in several interviews. During one of those interviews, she hinted at the possibility of a three-row option.
An official date of the car's launch has yet to be announced, but we expect it to be in either late 2024 (as a 2025 model) or early 2025.
Dodge Charger Daytona SRT Banshee –
Aimed at the muscle car buyer, the next generation Dodge Charger (and Challenger) will also be sitting on the STLA Large architecture. Dodge showcased its new concept 'eMuscle' car just a few months ago just before the Woodward Dream Cruise.
The new Charger Daytona SRT Banshee is designed to shake up the EV world. Dodge has openly admitted that the Charger BEV will not be focused on a best-in-class range or best-in-class efficiency, but for those looking for something fun and out of the ordinary in the EV segment.
With styling inspired by the 1969 Dodge Charger, the Daytona SRT Banshee-inspired design takes on the challenge of revolutionizing the look of an EV while offering subtle nods to the brand's muscle car past.
There is the new front-end design, paying homage to the 1969 car, but features a new distinct 'R-Wing' (named after Ralph Gilles), that allows air to flow through the front opening, enhancing downforce.
From the side of the car, you can see a lot of inspiration from the 1999 Dodge Charger R/T Concept's coke bottle shape. And to please fans, this concept is a true two-door (but don't look for the Charger to make it into production that way).
A new hatchback design is highly functional, giving the concept a dual personality: a beast at the track that can still meet everyday needs. The design, along with rear seats that fold flat, offers unexpected utility and storage capacity from a muscle car.
Dodge never did release specifics on the car's powertrain, other than that there will be three levels of power offered from the factory. Thanks to Direct Connection, there will be several customizable features including, power levels, exhaust sounds, and performance modes available.
The muscle car duo will also come with ICE variants as well, for those not looking to make the jump to electric quite yet. The new Dodge Charger is expected to start production at the Windsor Assembly Plant in late 2023.
Wagoneer S –
With the full-size Wagoneer/Grand Wagoneer being simply "too big" for most global markets, a smaller all-electric offering should do the trick. Codenamed Wagoneer S, the unibody STLA Large offering should be quite different than its STLA Frame-based siblings.
Offering a unique, sleek, aerodynamic design and 4×4 capability as standard, with all-terrain management, advanced Jeep brand-focused technology, and impressive performance credentials, the Wagoneer S looks to expand the Jeep sub-brand's presence in the premium SUV segment.
The Wagoneer S will only be offered as a BEV, and Jeep says it is targeting 400 miles of range on a single charge. Sounds familiar to the Airflow, however, the Airflow featured two 201 horsepower e-motors, while the Wagoneer S will have 600 horsepower with a 0 to 60 mph time of around 3.5 seconds. So we expect the Wagoneer S to have a bigger battery pack than its platform-mate, the Airflow.
Sleek and sporty, the Wagoneer S blends a little bit of the Airflow's slippery "jelly bean" shape with the Charger Daytona SRT Banshee's aero tricks, thanks to its incredible new and distinctive "hovering wing" roofline. Even the traditional seven-slot grille has been redesigned to be more of a design aesthetic than ever before since grilles are needed up high on EVs.
According to Jeep, availability will come sometime in 2024. Jeep also states the new Wagoneer S will be on display to the public next year, during the auto show season. Production is slated to be in North America.
Jeep Recon –
The Jeep Recon is the first all-electric SUV that will launch in North America. Looking more like a traditional SUV that people have been accustomed to, the Recon is aimed at those who love to explore extreme adventures in near silence with a rugged, fully-electric package.
The STLA Large-based SUV was designed to be 100% Jeep 4×4 and 100% zero emission. This SUV will be offered exclusively as a BEV.
The Recon will offer true "Trail Rated" capability with a Selec-Terrain traction management system, e-locker axle technology, under-body protection, tow hooks, and aggressive off-road tires. The Jeep Recon offers authentic Jeep open-air freedom with a one-touch powertop, removable doors, and glass.
Unfortunately, Jeep hasn't released any true details about the Recon's propulsion system. The only thing we know for sure is that the Recon will have "the capability to cross the mighty Rubicon Trail, one of the most challenging off-road trails in the U.S., and reach the end of the trail with enough range to drive back to town and recharge," according to Jeep CEO, Christian Meunier.
The Rubicon is scheduled to be on display next year, with production starting in North America in 2024. The Recon will be sold in most major markets around the globe, including Europe.
Other Potential Vehicles –
During the EV Day 2021 presentation, Head of Stellantis Design, Ralph Gilles stated that eight vehicles were currently in the process of coming to market over the next 5 to 8 years. Obviously, we have seen four of them. Among the vehicles teased during the presentation were a midsized Ram pickup truck, a Chrysler sedan, and what appeared to be the next-generation Jeep Cherokee.
Chrysler CEO, Chris Feuell in an interview with MotorTrend in January, explained that the possibility of two new electrified SUVs could follow the Airflow. Another thing she said, was that she wants to see a "fresh perspective" on what a minivan or the less-stigmatized "multi-purpose vehicle" can be. Knowing that the minivan segment is an important part of the Chrysler brand, it is doubtful we would see a more SUV-like vehicle be adapted into the space. But expect the current Pacifica/Pacifica Hybrid to remain for some time yet.
One vehicle Feuell did not confirm was another 300 sedan, despite the teasers, we have seen (shown above).
Dodge is expected to release both its new Charger and Challenger models on the new STLA Large architecture, but nothing has been said officially yet about a Durango replacement. The current Durango has been on the market since the 2011 model year and continues to be a strong seller for the brand. Rumors for quite a while have said that the next Durango could be going to the STLA Frame platform and built alongside the Wagoneer.
Other than that, Dodge hasn't mentioned any other vehicles coming to its lineup other than the new Hornet. The vehicle rides on the current FCA-derived Small-Wide 4×4 LWB, shared with the Jeep Compass, Jeep Commander, and Alfa Romeo Tonale.
As we stated earlier Jeep already has big plans with the STLA Large platform, thanks to the all-new Wagoneer S and Recon. But it is obvious that Jeep will build its next-generation Cherokee on the platform as well. We expect it to be similar in size to the Wagoneer S and to feature both BEV and HEV powertrains.
Stellantis recently announced that a new 1.6-liter turbocharged inline-four with HEV applications would be built at its Dundee Engine Plant. The engine is scheduled to be produced in 2025 and will be in at least two applications making the Cherokee a likely candidate.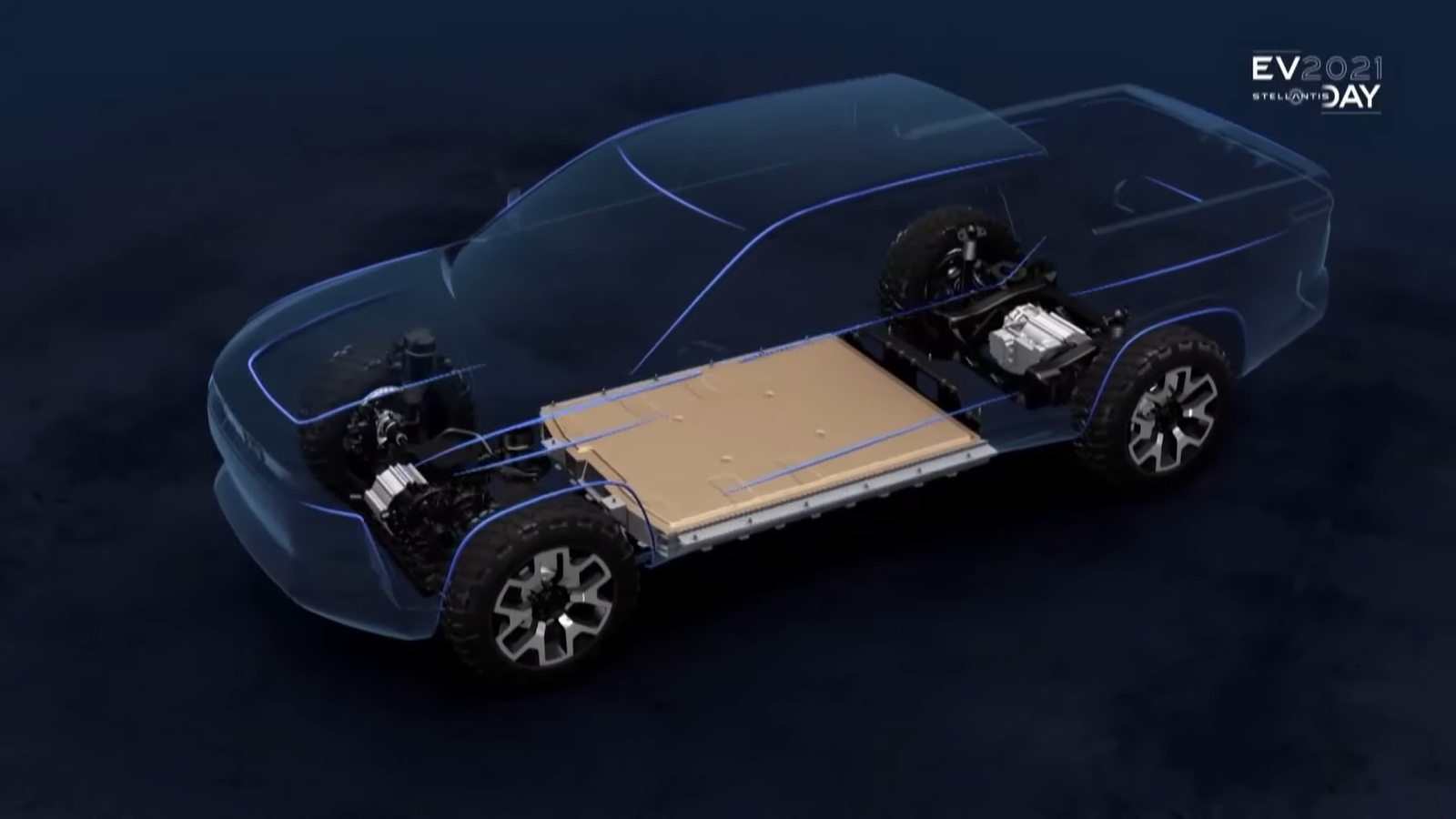 For Ram, one thing the market has demanded over the past decade is a follow-up to the Dodge Dakota which was discontinued after 2011. The STLA Large architecture looks to offer a midsize electric pickup offering, something that other automakers other than Rivian have delivered so far. More than likely, it could also be powered by both HEV and BEV powertrains. Both GM and Ford only offer small turbocharged four-cylinder engines in their midsized offerings going into 2023, it would be likely Ram would follow and a BEV model could compete directly with the Rivian R1T.
With that being said, the STLA Large architecture is looking to be one of the most diverse platforms ever used by the Chrysler Group. It will be interesting to see where the platform is three years from now and a wide range of vehicles are spawned from it.