Yesterday, Stellantis presented a comprehensive electrification strategy the delivers exciting, class-leading vehicles for the company's iconic brands while leveraging in-house expertise, partnerships, and joint ventures to deliver advanced technology at affordable prices. The strategy will allow the company to target sustainable double-digit adjusted operating income margins in the mid-term.
Stellantis plans to invest more than €30 billion ($35.6 billion) through 2025 in electrification and software, while continuing to be the automotive efficiency frontrunner, with investment efficiency 30% better than the industry average.
Targeting over 70% of sales in Europe and over 40% in the United States to be low-emission vehicles (LEV) by 2030, all of Stellantis' 14 brands are committed to offering best-in-class fully-electrified solutions. Stellantis will provide four flexible BEV-by-design platforms, a scalable family of three electric drive modules, and standardized battery packs to cover all brands and segments. The four new platforms are designed for long life thanks to software and hardware upgrades.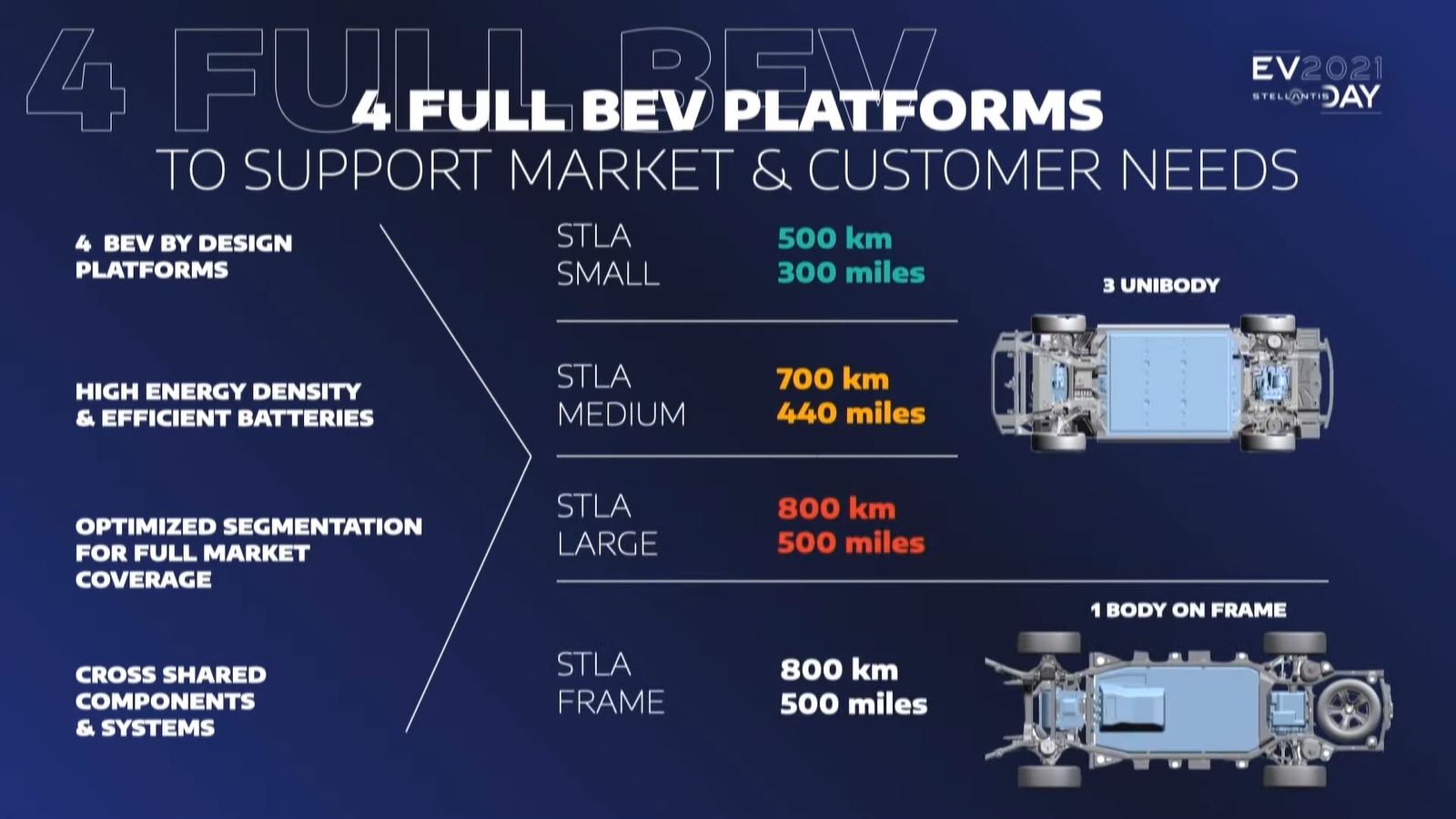 Stellantis plans on delivering battery-electric vehicles (BEVs) that meet the demands of its customers base, with ranges of 300 to 500 miles (500 to 800 km) and a class-leading fast charging capability of 20 miles (32 km) per minute.
Stellantis also plans for a global electric vehicle (EV) battery sourcing strategy of over 260GWh by 2030, supported by five "gigafactories" between Europe and North America. The plan is to include dual battery chemistries with both a high energy-density option and a nickel cobalt-free alternative by 2024. Stellantis also plans on having solid-state battery technology introduced in 2026.
The automaker picked 6 of its 14 brands to talk about the future of electrification with their brand during the presentation. Among the brands were Opel, Dodge, Jeep®, Peugeot, FIAT, and RAM.
In case you missed the event, we have included the event in its' entirety at the top of the page for you. After let us know your opinion about the new electrification plan for the automaker in the comments below or in the MoparInsiders.com forums.