The Maserati MC20 super sports car went on sale in the North American market back in December. But this week, car enthusiast, car collector, and comedian Jay Leno got to spend some time behind the wheel of the all-new mid-engined supercar. Along with Head of Maserati of North America, Bill Peffer (who jumped ship last year at KIA to run the Italian marque in the Americas), Jay reviews the newest Maserati halo vehicle on his latest episode on his Jay Leno's Garage YouTube channel.
For those who aren't familiar with the MC20, the mid-engined MC20 comes into the lineup ready to take on the likes of Lamborghini, McLaren, and former sibling company Ferrari. The new Italian supercar measures 184-inches long, 77-inches wide, and 48-inches tall, and is bigger than the Lamborghini Huracán and yet weighs 117 lbs. lighter than the raging bull. That means the MC20 only weighs 3,306 lbs. (or 1,500 kg), thanks to a lightweight monocoque construction developed by Maserati and Dallara and lots of carbon fiber.
Power comes from the all-new Maserati-built mid-mounted twin-turbocharged 3.0-liter "Nettuno" (or Neptune) V6. It delivers 621 horsepower @ 7500 rpm and 730 Nm (or 538 lb.-ft) of torque @ 3000 rpm with a specific power output of 210CV/liter (or 207 horsepower/liter). The Nettuno features twin spark plugs per cylinder, a dry-sump, as well as uses both direct and indirect fuel injection systems. The new powerplant is mated to an 8-speed dual-clutch automatic transmission and powers the rear wheels using a mechanical limited-slip differential.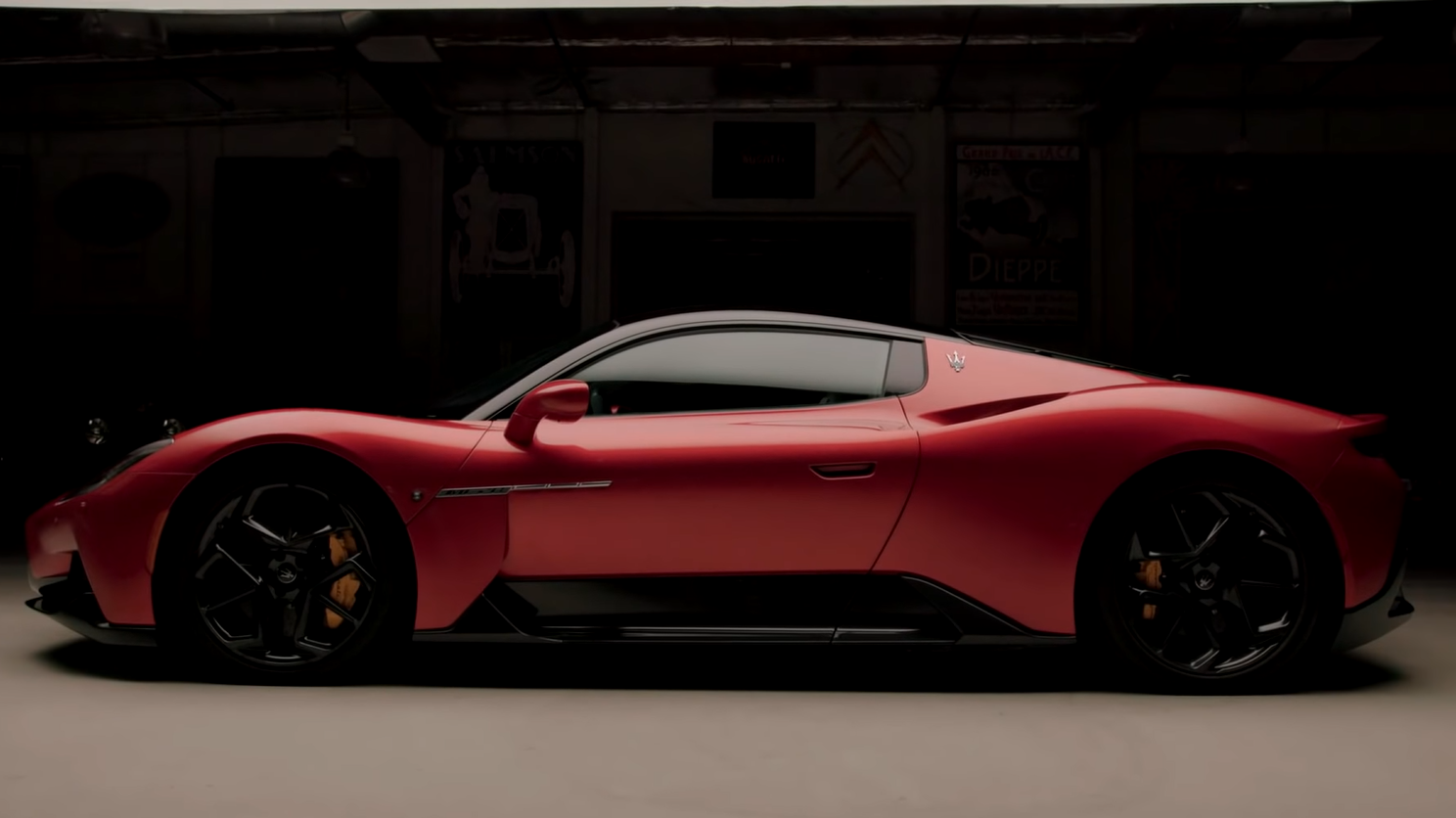 The driver can opt for four traditional modes when behind the wheel of the MC20. Those include Wet, Sport, GT, and Corsa by using the drive mode selector. A fifth mode "ESC Off", disables traction control completely and can make the MC20 a Hoonigan's dream. Each of the modes changes certain parameters of the car, such as steering feel, throttle sensitivity, and the MC20's adaptive suspension. Thanks to the double-wishbone suspension with active shock absorbers, the car can be raised or lowered depending on the drive mode selected.
Maserati claims a 0 to 62 mph (0 to 100 km/h) of 2.8-seconds and a top speed of 193 mph (310 km/h) for the gasoline-powered MC20.
According to Maserati, its team spent more than 2,000 hours in Dallara's wind tunnel and more than a thousand CFD (Computational Fluid Dynamics) simulations, dialing in the sleek looks of the MC20. The handsome looks of the MC20 are highlighted with swooping LED headlamps, a huge Trident badge embedded in the grille, and features lots of swoops and divots without the aids of active aerodynamic components. Instead, the coupe uses a small integrated rear spoiler for downforce. Of course, the MC20 wouldn't be a supercar without a set of butterfly doors.