After teasing that the 14 brands within the Stellantis portfolio would be moving to four new dedicated electrified platforms back in April, Stellantis CEO Carlos Tavares unveiled much of the company's plans towards electrification at Stellantis' EV Day 2021 presentation. The event gave us a much broader look at what exactly the French-Italian-American automaker has planned going forward in the next decade.
Stellantis announced that it will invest more than €30 billion (or $35.6 billion) on the development of future products through 2025. A majority of that money would be for the company's electrification and software strategy. Other funds would go to investments that the company has made with various joint ventures, ranging from in-car technology (like its joint venture with Foxconn), electric drive units, and even battery technology.
The four dedicated new platforms are as follows…
STLA Small – Subcompact-Sized Unibody Vehicles
STLA Medium – Compact to Medium-Sized Unibody Vehicles
STLA Large – Large-Sized Unibody Vehicles
STLA Frame – Medium to Large-Sized Body-On-Frame Vehicles
When it comes to power, the four new platforms will incorporate three new electric drive modules (EDM) that combine the motor, transmission, and inverter. The EDMs are compact but are flexible enough to offer each platform front-, rear-, all-wheel-, and plug-in (4xe) configurations.
As for output, the EDM #1 module would put out 70 kW (400-volt) in the STLA Small platform. The EDM #2 module would feature a range of 125 to 180 kW (400-volt) and would be used in the STLA Small, Medium, and Large offerings. This leaves the 150 to 330 kW (400/800-volt) EDM #3 module the STLA Medium, Large, and Frame applications.
The EDMs will be manufactured locally to their intended assembly plants. For example, the European-built vehicles will have EDMs manufactured by NPe (a joint venture between Stellantis and Nidec). For North America and China EDMs, most production of the EDMs will be done by already developed engine plants and certain suppliers.
Some of the biggest problems with electric vehicles (EVs) are efficiency, range, and recharging. Long charge times and range are often a huge turn-off to those considering EVs. But Stellantis is promising its customer base with best-in-class performance in efficiency, range, and recharging when it comes to its high energy-density battery packs. The automaker says that it will meet this challenge with its Battery Electric Vehicle (BEV) models as they will deliver ranges between 300 to 500 miles (500 to 800 km) and with a class-leading fast charging capability of 20 miles (32 km) per minute.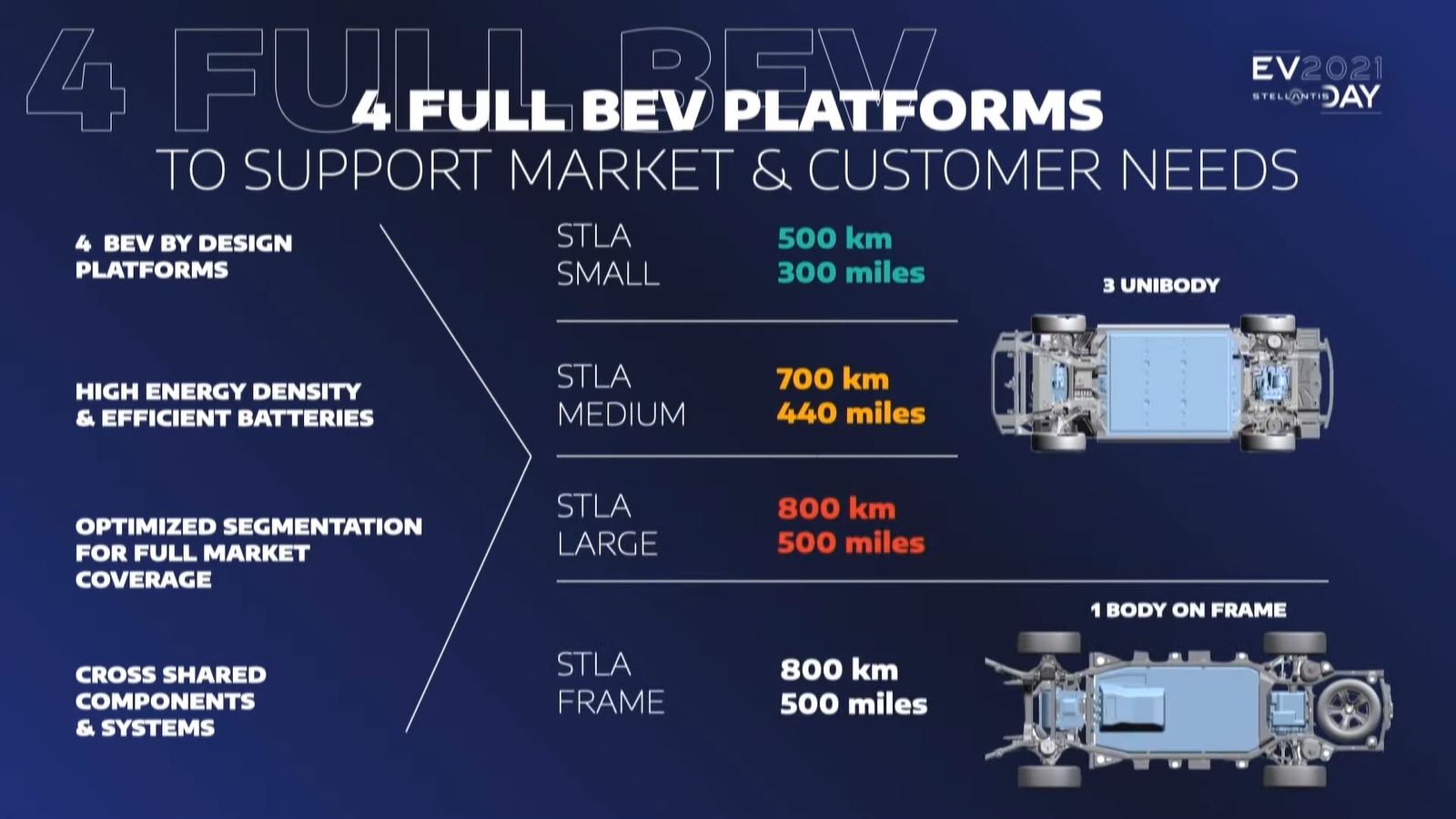 Those battery packs will be tailored for a variety of vehicles ranging from smaller city cars to energy-dense packs for performance vehicles (like that of the Dodge brand) and trucks (Ram brand). The use of two battery chemistries is planned by 2024 to support various customer needs including a high energy-density option and a nickel cobalt-free alternative. Stellantis says that its first competitive solid-state battery technology will be introduced before 2026.
The company's EV battery sourcing strategy is to secure more than 130 gigawatt-hours (GWh) of capacity by 2025 and more than 260 GWh by 2030. The EV battery and component needs will be met with a total of five "gigafactories" in Europe and North America, completed with additional supply contracts and partnerships to support total demand.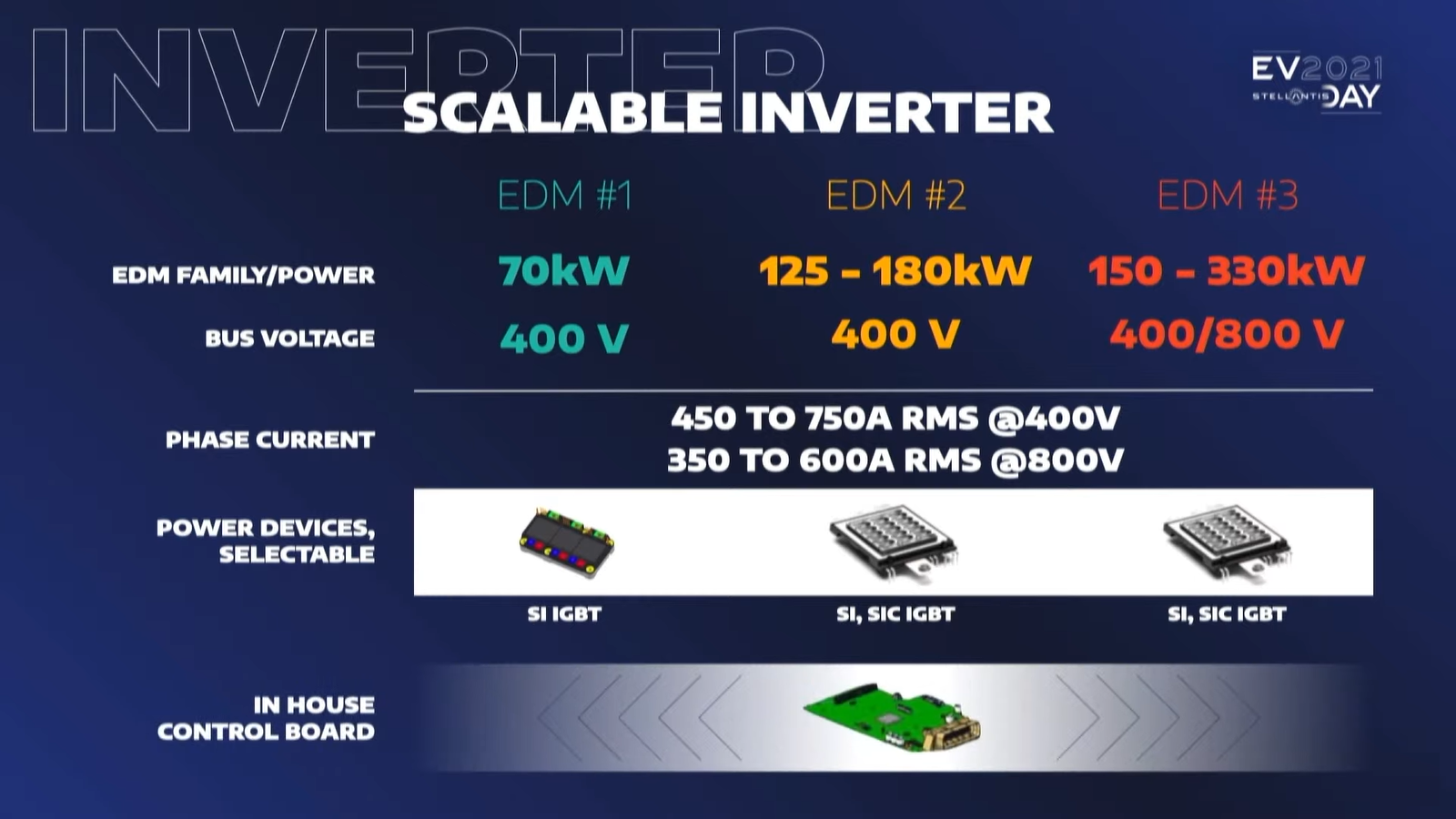 As for charging capabilities, Stellantis is looking for solutions for private, business, and it's fleet customers that can help simplify their ownership experience. This includes providing day-to-day smart charging offers using green energy sources, tapping into existing partnerships to expand charging options, and accelerating smart grid use.
It intends to meet the demands of its customers in Europe using the development of fast-charging stations by a Memorandum of Understanding (MOU) signed between Free2Move eSolutions and Engine EPS. The company will also use the Free2Move eSolutions business model in the North American market.
Stellantis is also looking at continuing to grow its commercial vehicle leadership in Europe, by being a global leader in e-commercial vehicles. The company already offers all-electric models like its Fiat E-Ducato, but will also embrace synergies like the rollout of its hydrogen fuel cell medium van lineup (something we recently talked about) by the end of 2021. It will also strengthen its position in North America for e-commercial vehicles, starting with the upcoming Ram ProMaster BEV.
The automaker also ensured its customers that new hardware upgrades and over-the-air software updates will help extend the help of the next generation of vehicles. This means faster charging, more range, and other enhanced functions could be added to the vehicle after it is purchased.
Electric vehicle battery pack costs are targeted to be reduced by more than 40% from 2020 to 2024 and by more than an additional 20% by 2030. All aspects of the battery pack play a role in reducing the costs while optimizing the overall pack, simplifying the format of the modules, increasing the size of the battery cells, and upgrading the battery chemistry.

The company intends to maximize the full value of the battery life cycle through repair, remanufacturing, second-life use, and recycling, as well as ensure a sustainable system that prioritizes customer needs and environmental concerns.
Stellantis is targeting the total cost of ownership of EVs to be equivalent to internal combustion engine vehicles by 2026.
Not all vehicles will be all-electric. Stellantis will continue to offer internal combustion engines (ICE) with mild-hybrid electric vehicles (mHEV) and plug-in hybrid electric vehicles (PHEV) for most of its portfolio of vehicles.
So what do you think of the Stellantis direction to electrification? Do you agree or disagree with automakers' decision to go to electric vehicles? Let us know in the comments below or in the MoparInsiders forums.