This AMW4x4 Gladiator AMW840 Packs A Supercharged Demon Under The Hood!​
This 8-LUG Monster Packs 840 Horsepower And Rolls On 40-Inch Tires...​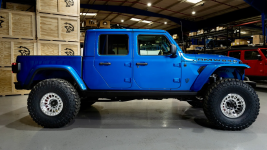 America's Most Wanted 4×4 (AMW4x4)
has once again pushed the boundaries of off-road performance with their latest creation,
the 2023 Jeep® Gladiator AMW840
. This formidable pickup truck is a true testament to AMW4x4's engineering prowess, offering unprecedented power and unrivaled capabilities. With its custom modifications, supercharged engine, and a host of off-road enhancements, the AMW840 is a force to be reckoned with.
Last edited: