THINK PINK: Graveyard Carz' Takes On A Trio Of FM3 High-Impact Colored Cars​
Pink Color Is A Rare and Highly-Sought After Color...​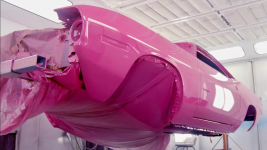 In January 1970, Chrysler Corporation introduced a high-impact color that would go on to make history in the world of muscle cars.
This color was known as "FM3"
and was a bright pink hue that had never been seen before on a muscle car.
It was named Panther Pink
in the Dodge world and Moulin Rouge in the Plymouth world. This color was so vivid that it quickly caught the attention of many car enthusiasts and made its way into dealer showrooms by the spring of 1970.
Discover the story behind Panther Pink, the iconic high-impact color introduced by Chrysler in 1970, and its lasting impact on muscle cars.
moparinsiders.com