The 707 Horsepower 1970 Plymouth Superbird "HELLBIRD"!​
A Great Testament To Just How Awesome The HELLCAT Is...​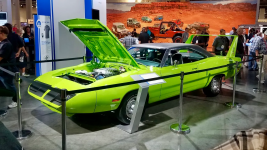 Mark Worman is a well-known figure in the world of Mopar. He is the founder of
Graveyard Carz
, a renowned vehicle restoration company, and is also a top Mopar enthusiast and brand ambassador. With his team of skilled professionals, also known as "
ghoulz
", Worman has restored some of the best examples of Mopar muscle cars that were popular in the 1950s, 1960s, and 1970s.
Despite his passion for restoring cars to their original condition, Worman occasionally lets his team come up with unique creations. One such vehicle is the "Hellbird," a 1970 Plymouth Superbird Tribute, created in 2017. This special vehicle was powered by the new Mopar "Hellcrate" 6.2-liter...
moparinsiders.com