See The 1,000 Horsepower Mammoth 1000 6×6 In Action!​
John Hennessey Gets Behind The Wheel Of His Company's Monster Pickup...​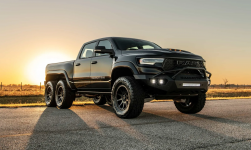 John Hennessey, CEO of Hennessey Performance, is no stranger to creating some of the most powerful and impressive vehicles on the street. In a recent YouTube video, Hennessey climbed behind the wheel of the latest creation to come out of his garage,
the Hennessey™ Mammoth™ 1000 6×6
. The Mammoth 1000 6×6 is an upgrade over the already impressive 2023 Ram 1500 TRX, putting out an astounding 1,000 horsepower and 969 lb.-ft. of torque.
Watch John Hennessey take the wheel of the Mammoth 1000 6x6, a 1,000 horsepower upgrade to the Ram 1500 TRX. This beastly truck features a third axle, locking rear axles, Bilstein suspension, and a high-flow 2.65-liter supercharger, all expertly calibrated to deliver maximum power and performance.
moparinsiders.com