Ram Quietly Adds Night Edition Package To Entry-Level Ram 1500 Tradesman For 2023!​
Dark-Theme Package Looks Is Now Available On Budget-Friendly Model...​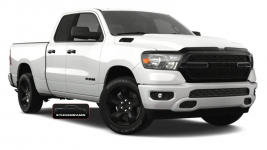 As we enter 2023, the automotive market is in a crazy state. With the factors of supplier shortages, inflation, and dealer posting huge markups on a limited inventory supply, full-size pickup prices are higher than ever. But with automakers focusing on the latest gadgets, there is a number of people who are looking for a good-looking pickup without all of the bells and whistles.
In addition to offering its body-colored themed Sport Appearance Package on the Tradesman, Ram is now offering its darkened Night Edition Appearance Package as well. That's right, much of the Big Horn Night Edition goodies can now be ordered on the Tradesman.
moparinsiders.com