Meet The 807 Horsepower 1970 Dodge Challenger T/A​
Released At SEMA, Built By Graveyard Carz, It Is The Ultimate Challenger T/A...​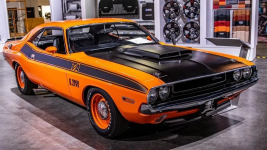 Dodge
launched the Challenger T/A
, a special version of their well-known muscle car created for Trans-Am racing, in March of 1970. At the Specialty Equipment Market Association (SEMA) Show in Las Vegas this past year, Mopar and Graveyard Carz collaborated to produce a contemporary homage to this famous car built over 50 years ago.
Mopar's latest performance technology with the modern tribute to the 1970 Dodge Challenger T/A. Created in partnership with Graveyard Carz.
moparinsiders.com