Hurricane Ian Exposes 1996 Dodge Caravan Hand-Painted Billboard Ad!​
Captures One Of The Higher Points Of The Dodge Brand In The Past 30 Years...​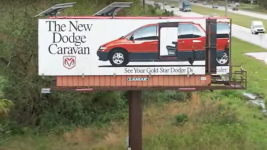 It's been almost a month since Hurricane Ian devastated much of the southwest coast of Florida. The Category 4 hurricane was the deadliest hurricane to hit the Sunshine State since 1935, causing 126 deaths and over $67 billion dollars in damage. But the storm is still making the news cycle and it may not be for what you think.
For those living in Cape Coral, Florida, area residents noticed that one of the local billboards had been stripped of its layers of vinyl graphics leaving the last hand-painted ad exposed. That advertisement was for the then-all-new 1996 Dodge Caravan.
moparinsiders.com