CAUGHT: Ram's New Midsized 1200 Pickup Hits The Streets In Brazil​
No, It's Not Coming To North America...​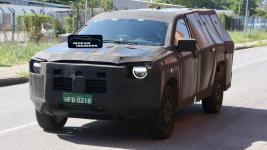 Since the demise
of the Dodge Dakota in 2011
, Dodge Truck (err Ram) enthusiasts have been begging the Auburn Hills-based automaker to bring back a mid-sized pickup offering. Instead, Ram has continued to put focus on offering its Gen4 Ram 1500 Classic full-size truck, while other Detroit automakers have brought back its popular smaller options and continued to refine them for a number of years.
Codenamed "Project 291", the Ram 1200 will be a unibody-based mid-sized pickup specifically built for Ram to compete in LATAM. Based on the Fiat Chrysler Small-Wide 4x4 LWB architecture that underpins the Jeep® Compass, Jeep Commander, and Fiat Toro, the Ram 1200 will not be a badged-engineered...
moparinsiders.com