Joined

Oct 8, 2018
Messages

695
Reaction score

534
What are the numbers you ask?
In Germany a
112% increase compared to 22Q1
, in Belgium
a 105% increase compared to 22Q1
, in Spain
a 121% increase compared to 22Q1
, in France
a 179.28% compared to 22Q1
.
Of course, when the initial number of sales is low, it is easy to have these increases but this allows them to be comfortably ahead of Jaguar in sales.
In Germany this corresponded to 1337 units: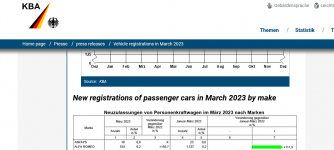 In Spain there were
854 units sold
, 528 of which were Tonales.
In Italy there
were 6535 Alfas sold in the first quarter
. A modest increase of 202.97% compared to 22Q1.
It seems that the Tonale effect is real and that the restyle of the Giulia/Stelvio was well received.
If this continues until the launch of the B-SUV, sales will increase even more, and with a steady launch schedule Alfa seems on track to overcome the threat to its survival.
If some big wigs at FCA hadn't done their best to cripple the brand and kept a consistent launch schedule as announced when the Giulia and Stelvio were launched maybe Alfa wouldn't have been in this situation.
And maybe it the Tonale hadn't been delayed and the hybridization of the Stelvio and Giulia put on hold I wonder how much sales would've increased in Europe. Thanks Manley!..
Anyway, can't wait to see what will be the Hornet effect on Dodge's sales.