"Black Ghost" To Make Final Appearance Before Going To Auction​
See The Legend One Last Time Before It Is Sold...​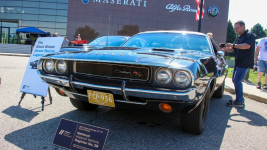 M1 Concourse
is a well-known destination for car enthusiasts, boasting a vast 87-acre playground that includes a high-security community with over 250 private garages, as well as a cutting-edge 1.5-mile race track. It is most famous in the Mopar community
for hosting the annual Roadkill Nights event
, which takes place just before the iconic Woodward Dream Cruise. However, the facility also holds several other events on its grounds throughout the year.
This month's Cars and Coffee event will focus on General Motors brands, but the star attraction will be a Mopar. Specifically, the iconic 1970 Dodge HEMI® Challenger R/T SE, famously known as the "Black Ghost," will be on display. This will be the last opportunity for car enthusiasts to see the...
moparinsiders.com