YouTuber SRTMush Breaks SRT Demon Record:
Pushes The Record Even Deeper Into the Low 9s: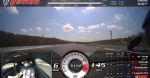 Well known Mopar YouTuber and SRT Demon owner,
SRTMush
had an amazing run last weekend at the "YouTube Callout". What is the YouTube Callout? They are events where the popular YouTubers in the automotive world, drag race each other and allow fans to purchase track time and raffle off a chance to run against them.
SRTMush who's real name is Todd Fullford, is no stranger to fast Mopars and his 2018 Dodge Challenger SRT Demon has proven that even more so. His SRT Demon has been upgraded with a 2.65 upper blower pulley, Hoosier tires, cat-less mid-pipe, 1700-pound injectors and has been converted to run on E85 fuel. Good enough to make an estimated 900 horsepower to wheels.
To Read The Whole Article, Click On The Link Below...
https://moparinsiders.com/youtuber-srtmush-breaks-srt-demon-record/