Thanks for joining us here. I'm Jared, some might recognize me from various automotive forums from around the web. I'm a big Mopar fan and own and started the website
5thGenRams
in December of last year. This site is a joint venture between myself and
@redriderbob
we are still in our infancy but we have a ton of great content coming. We will also be featuring content from some other well known Mopar Insiders.
I currently own a 2016 Ram 1500 Sport which is my 8th Mopar vehicle so far.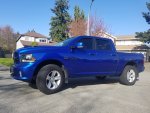 I hope you enjoy your time here, please introduce yourselves and tell us a bit about you here in the Introductions section.