Waymo Self-Driving Chrysler Pacifica Involved In Crash In Arizona:
Pacifica Was In Self-Driving Mode When Accident Happened...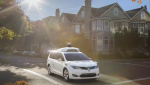 A Waymo autonomous Chrysler Pacifica Hybrid was involved in an accident this
afternoon
in Chandler, Arizona. The vehicle was in autonomous driving mode when the accident occured. There was a Waymo driver behind the wheel of the Pacifica Hybrid when the accident occured.
The Chandler Police Department a silver Honda sedan traveling eastbound on Chandler Boulevard had to swerve to avoid striking a vehicle traveling northbound on Los Feliz Drive. As the Honda swerved, it continued eastbound into the westbound lanes of Chandler Boulevard and hit the Waymo Pacifica van. Police say the van was traveling at slow speed when the accident occured.
To Read The Article, Click The Link Below...
https://moparinsiders.com/waymo-self-driving-chrysler-pacifica-involved-in-crash-in-arizona/