This Is Why Alfa Romeo Should Build Trucks
Alfa Romeo's
done trucks before
, it makes them now (if you could consider the
Stelvio
crossover to be a "truck"), and it could
make more in the future
. But what if it did something altogether larger? Something like, say, a big-rig tractor-trailer? As unlikely as it may seem, it might look a little something like this.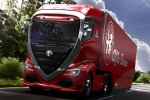 Rendered by budding Korean designer
Taekang Lee
and
shared on Behance
, this concept envisions the unusual prospect of an Alfa Romeo truck – the kind you might see hauling cargo down the highway, but with a bit of Italian flair thrown into the mix.
You can read the rest of the article below...
This Is Why Alfa Romeo Should Build Trucks