This 1996 Dodge Viper R/T10 Limo Is Up For Grabs On Facebook Marketplace!​
Seats Up To 12 Passengers & Has An Asking Price Of $160,000...​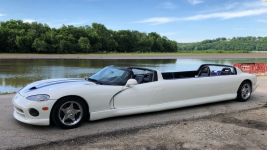 After 25 years of production, the iconic Dodge Viper
was discontinued after the 2017 model year
. Since then, we have seen the public's love for the Viper continue with various versions of the iconic sports car going for record amounts. But in recent days, one particular model has been catching a lot of attention on Facebook marketplace.
This 1996 Dodge Viper R/T10 isn't your typical first-generation (GEN I) Viper. Instead, it has been converted into a limo capable of carrying up to 12 passengers (although the car only has safety belts for 10) in open-air comfort. But like the GEN I cars before it, it is only an open-air...
moparinsiders.com