Thieves Are Continuing To Steal Ram 1500 Pickups From Plant At An Alarming Rate​
SHAP Lot, A Hot Spot For Auto Theft...​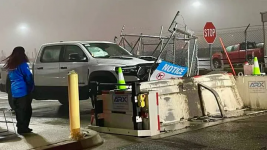 For the past several years, Stellantis (i.e. FCA) holding lots located near its Detroit assembly facilities have continued to be hot spots for vehicle thefts. It seems like every other week there is some kind of theft or attempt to steal high-end vehicles out of what is supposed to be secured and protected holding lots.
This morning, the Macomb County Scanner (MCR) reported a heavy police presence in the area of 17 Mile Road and Mound Road on the north side of the Stellantis Sterling Heights Assembly Plant (SHAP). The SHAP facility is home to the production of the award-winning Ram 1500 (DT) pickup trucks.
moparinsiders.com