The 475 Horsepower Dodge Durango SRT Will Return For 2021 Model Year:
Updated Durango Will Keep Its 392 HEMI Model...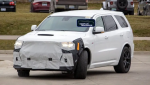 There has been a lot of excitement surrounding the upcoming refresh to the Dodge Durango for the 2021 model year. With the news that a new Hellcat-powered variant is coming, there are still a lot of people who are fans of the 6.4-liter HEMI V8-powered model. Interestingly enough, we have gotten...
moparinsiders.com