SPOTTED: 2023 Jeep® "Junior"/"Jeepster" (JJ) ICE Model!​
Caught On The Streets Of Sicily...​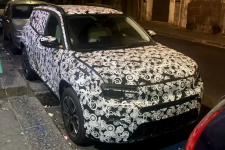 Due to the Stellantis timeline, the new mini-compact SUV will not be based on the all-new STLA Small architecture, instead will be built upon
the second-generation eCMP/CMP platform
used by vehicles from the former Peugeot Group. This is due to the fact that Stellantis has already announced that the STLA Small architecture won't debut until the 2026 model year.
Another spotting of the highly-anticipated called "Project 516" or (JJ) the newest and smallest Jeep has made its way on the interwebs. Although it has been called "Junior", our sources have indicated that the vehicle could feature the iconic "Jeepster" nameplate and it could make its official...
moparinsiders.com