Ram Trucks Stolen From Warren Truck Assembly Plant:
Nine new trucks taken from holding lot...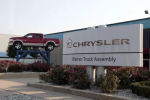 Well seems FCA US has a reoccurring problem at the manufacturing plants around the Metro Detroit area. The later part of last year, a bunch of brand new 2018 Jeep Grand Cherokee Trackhawk models, powered by the 707-horsepower HELLCAT HEMI V8 were
stolen
from holding lots around the Jefferson Avenue Assembly Plant in Detroit, Michigan. Those vehicles cost around $100,000US and many of them, last we heard were recovered.
Read more by clicking the link below...
https://moparinsiders.com/ram-trucks-stolen-from-warren-truck-assembly-plant/