Next-Gen Mopar Drag Pak Race Car To Feature Hurricane I6 Power!​
'CAT X' Engine Will Be Available For Racing Applications...​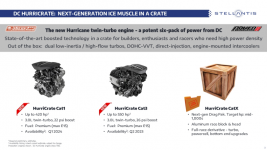 One of the important things we learned from yesterday's announcement, is the Chrysler Group engineers are hard at work on the development of a new race version of the Hurricane dubbed "CAT X". CAT being short for 'category' a play on words for the strength of an actual Hurricane, the new HurriCrate engine will be a race-oriented engine that is currently "under review" according to internal documents released by the automaker.