Life After Grand Caravan… What Will Happen?
The Unstoppable Force That Is Grand Caravan: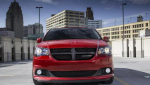 The Dodge Grand Caravan (Caravan) has been a staple in the American car culture since it's introduction in the 1984 model year. The Dodge Caravan and Plymouth Voyager set the car culture in North America on fire, making families turn in their gas guzzling station wagon keys in for something that was practical, fuel efficient and provided great interior space. As the years went on, sales continued steady and the minivan has always been a key factor in the amount of profit to the company. Even when other manufacturers started bailing on offering minivans, because they were criticized as being a "soccer mom's vehicle"; both the Chrysler and Dodge brands stayed with their formula and currently own 53% of the segment.
To Read The Entire Article Click On The Link Below...
https://moparinsiders.com/life-after-grand-caravan-what-will-happen/