Jeep Wagoneer Roadtrip Concept – The Ultimate 1960s Adventure Vehicle:
Pure 1960s Americana!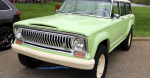 Back in late March, Jeep showed off it's latest concepts for the annual Easter Jeep Safari in Moab, Utah. Among the concepts was an amazing retro-fabricated 1965 Jeep Wagoneer, that the FCA Design's "Jeep Design Operations" team bought off Craigslist last summer from California. The concept was the hit of not just the seven concept that the design team rolled out for the event but was probably the most photographed vehicle at the Easter Jeep Safari this year.
To Read The Entire Article Click The Link Below...
https://moparinsiders.com/jeep-wagoneer-roadtrip-concept-the-ultimate-1960s-adventure-vehicle/