Jeep® Wrangler Unlimited (JL) Gets Downgraded In Latest IIHS Side Safety Test!​
New Test Is Conducted With Faster Barrier And More Weight...​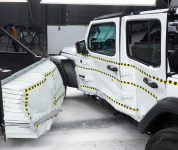 The
Insurance Institute for Highway Safety (IIHS)
has re-evaluated 18 midsized SUVs using its new side-impact test. The updated test uses a heavier barrier traveling at a higher speed to simulate the striking vehicle. Instead of using the 3,300 lbs. striking the test vehicle that the IIHS has been using for the past 20 years, the new one weighs around 4,200 lbs., approximately the weight of most modern midsize SUVs. Now, the striking test vehicle also runs at 37 mph, instead of the 31 mph conducted in the tests in the past. Those changes make the crash produce about 82% more energy.
Except for the Jeep® Wrangler Unlimited, all the midsize SUVs tested earn good scores for their driver and passenger airbags and head injury measures. The Wrangler Unlimited, which does not have side airbags for the rear seating positions, earns a poor rating for passenger head protection. The...
moparinsiders.com