Jeep® Brings New Earl Exterior Color To It's Gladiator Lineup.​
It Shade Of Gray With A Hint Of Aquamarine...​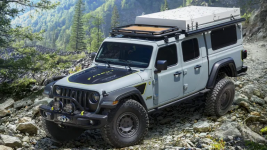 The Jeep® brand
is diversifying the Gladiator (JT) color palette
, by adding a new exterior color for the 2023 model year.
Initially featured on the Gladiator Farout Concept, Earl (paint code: PGP), a bold shade of Gray with hints of Aquamarine now joins the Gladiator lineup after making its production debut earlier on the 2023 Jeep Wrangler lineup.
moparinsiders.com