Jeep® Brand Proudly Returns To The Rebelle Rally For The Seventh Consecutive Year!​
Set To Defend The Overall, Electrified & Bone Stock Titles Won Last Year...​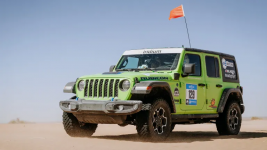 The
Rebelle Rally is the first women's off-road navigation competition
of its type in the United States. Traversing more than 1,400 miles (2,250 kilometers) through Nevada and California's iconic terrain, it is the country's longest competitive off-road rally. The cross-country endurance challenge focuses on precision driving and navigation skills – not the fastest speed.
Known for its legendary 4x4 capability and commanding performance straight from the factory, the Jeep brand is sending three Wrangler 4xe SUVs to compete in its seventh consecutive Rebelle Rally and defend its coveted 2021 titles in the Overall, Electrified, and Bone Stock classes.
moparinsiders.com