Is the auto industry setting itself up for another big truck bust?
Randy Essex
, Detroit Free PressPublished 6:00 a.m. ET Jan. 27, 2018 | Updated 11:00 a.m. ET April 26, 2018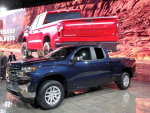 This column, originally published in January, has been updated to reflect Ford Motor Co.'s announcement that it will stop making almost all cars.
Are we really immune now to economic cycles – including in the oil and auto industries?
Today's dominance of trucks in the auto industry echoes 2006. Then and now, the automakers' mantra is that consumers want big SUVs and big trucks.
Ford's announcement Wednesday that it would stop making all but two of its passenger cars, killing the Taurus, Fusion, Fiesta and C-Max, underscores domestic automakers' shift away from sedans.
Today, pickups and SUVs are bigger and more expensive than ever — it's easy to spend north of $50,000 on a pickup and not unusual for prices to hit $90,000. The 2019 Dodge Ram 1500 rolled out at the Detroit auto show in January is longer, wider and higher than its already-darn-big predecessor.
General Motors had a fleet of new Silverados at the show, across the aisle from a battalion of Ford F-150s and the new mid-size Ranger.
Read the whole article here...
https://www.freep.com/story/money/cars/2018/01/27/big-truck-tiny-home/1063217001/