Joined

Apr 21, 2018
Messages

3,116
Reaction score

2,866
Location
The '70 Dodge HEMI Challenger. The '65 Mustang 2+2 Fastback. The '70 Camaro®. These are the muscle cars that represent each of the three great American automakers in what we're affectionately calling "Pony Rides"!
Okay, more precisely, that's our tongue-in-cheek way of thinking about the first
Hot Wheels Walmart Premium Diorama Set
for 2021. You'll notice that "branding," if you will, on the doors of the Retro Rig, a Hot Wheels original design that serves as the transporter in this set.
This also signals the continuation of a series that generated a lot of heat during its first year, last year. Considering that they're all made with all-metal castings and Real Riders wheels, their popularity is no surprise! In this set, we're thrilled to include the Dodge with its powerful 426 HEMI engine; the Mustang that dominated sports car and endurance races; and the Camaro®, a star of the Trans-Am road racing series.
Which one do we think will win in a race? Well, there's no way we're taking sides on that one. But we can certainly suggest that you consider getting two sets, so you can unbox one of them and put these ponies on some orange track, like in the good old days!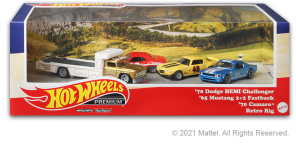 2021 Walmart Premium Diorama Set #1:
Retro Rig with:​
'65 Mustang 2+2 Fastback
'70 Camaro®
'70 Dodge HEMI Challenger
Items and dates subject to change. Production cars may vary from the photos shown. Mattel reserves the right to modify the color, decorations, scale, body, and wheel type. Product subject to availability.
Chrysler, Dodge, Jeep, MOPAR, Plymouth, RAM, SRT, HEMI and related logos, vehicle model names and trade dress are trademarks of FCA US LLC and used under license by Mattel, Inc. © 2021 FCA US LLC.