Ford joins FCA US in focusing on CUVs, SUVs and Trucks for North America!
FoMoCo jumps on the FCA US bandwagon...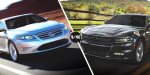 In 2016, a lot of people questioned Fiat Chrysler Automobiles (FCA) CEO Sergio Marchionne's move to eliminate the Chrysler 200 and the Dodge Dart from the FCA US portfolio. Marchionne stated that he believed that "there's been a permanent shift toward SUVs and pickups" and citing with low fuel prices would only push more crossovers, SUVs and trucks in sales.
Read the whole article...
https://moparinsiders.com/ford-joins-fca-us-in-focusing-on-cuvs-suvs-and-trucks-for-north-america/