FIAT Cuts Back Diesel Options For 2023 Fiat Toro Pickup!​
The Compact Pickup Also Will Get Park-Assist Capability & Add A Dark-Themed Package...​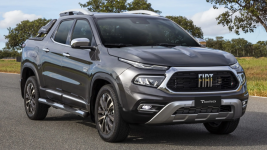 Stellantis has made it no secret that the automaker is trying to move away from diesel power in favor of electrification. The decision comes after the automaker agreed to plead guilty to criminal conspiracy charges related to its efforts to conceal the amount of pollution produced by its diesel engines. Stellantis agreed to pay $300 million in penalties to end a
multi-year investigation by the U.S. Justice Department
.
But the decision isn't just for the U.S. market. Instead, we are seeing a move across all markets from Stellantis to move away from diesel-powered internal combustion engines (ICEs).
According to Autos Segredos, details about the 2023 Fiat Toro will be released in the upcoming weeks. This includes the decision to drop the availability of its 2.0-liter Multijet II turbo-diesel four-cylinder engine (known as the TD350) from across the lineup, to just a single model.
moparinsiders.com