FCA Files Patent Related To Upcoming Turbo Inline-6:
Patent Docs Show Filing For New EGR System...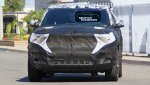 If you're an avid reader of MoparInsiders, you might have seen some of our articles mentioning the upcoming GME-T6 (Global Medium Engine Turbo-6) inline-six-cylinder engine. Unfortunately, we also shared the news that the rumored 426 cubic-inch (7.0-liter) HEMI V8 has been shelved, and...
moparinsiders.com