Don't Forget About The 2022 Jeep® Cherokee Trailhawk!​
Still An Affordable & Capable Off-Roader...​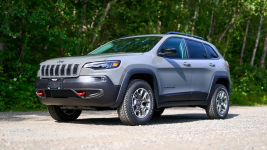 Many people
may not still realize that the 2022 Jeep® Cherokee (KL)
is still in production. With all of the attention given to the Jeep Compass (MP) these days, the Cherokee tends to be overshadowed although it offers a much more attractive package overall than the Compass.
Jeep 4x4 capability is at the forefront with the 2022 Jeep Cherokee Trailhawk. Thanks to a more aggressive look and stance, it exemplifies the Cherokee's trail readiness. Loaded with off-road hardware, the Trailhawk includes aggressive approach and departure angles thanks to unique front and...
moparinsiders.com