Digital Designer Shows Us Why Dodge "Can't Kill 'Eternal' Combustion"!​
Turns Charger Daytona SRT Banshee Into Full-Blown Drag Car...​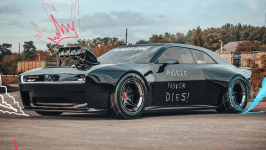 There have been a lot of Dodge fans who have expressed their concerns over the automaker's decision to move forward to electrifying its next-generation muscle cars. Although Dodge will continue to offer internal combustion engines (ICEs)
in the 2024 Dodge Challenger and Charger
, it looks more like it will move away from the HEMI V8s in favor of its new twin-turbocharged Hurricane I6 engines instead.
But it hasn't stopped digital artists from expressing their opinion of how the next-generation Dodge muscle cars should be offering HEMI V8 power! Shortly after the unveiling of the Charger Daytona SRT Banshee, we started to see those artists show us what the next-gen Charger Daytona could look...
moparinsiders.com