Chrysler Pacifica makes soccer moms hip
Motor Mouth Jeffrey Zygmont
Apr 28, 2018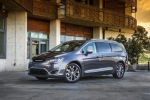 The car company Chrysler is out with a new TV ad that shows a slim and attractive mother of about age 35 waiting inside Chrysler's Pacifica minivan during her daughter's soccer practice. While kids chase a ball in the background, the woman paints her toenails, knits, reads a magazine, applies makeup, eats Cheez Whiz, reclines through a facial, emotes through an audio book, and finally swings wildly through a raucous rock song. The ad wraps up with a bewildered shrug by her child, who says, "You can't choose your parents."
The TV spot conveys two messages brilliantly. One is that the Chrysler Pacifica provides a comfortable and comforting environment. The second is that you can be a soccer mom and still be a free spirit, still be cool.
That second message is also kind of courageous, because it attacks the minivan/soccer mom stigma head on. It turns out that even real soccer moms don't want to be perceived that way, as women who give up independent identities to slavishly serve their kids. Therefore, in the car business, it's widely believed that the image of the family-friendly people movers known as minivans is damaged by their identification with soccer moms.
"Minivans still have that stereotype," said Brian Heney, chief operating officer of the Kelly Automotive Group, a family of 11 car dealerships across the North Shore and Merrimack Valley. "But once you get past that image, the utility of a vehicle like the Pacifica is fantastic. People who have them find them hard to give up."
I'll add that the Chrysler Pacifica makes it easy to get past that unfavorable image some people attach to minivans. The Pacifica is a new generation in child conveyance. Sleekly styled and attractive, comfortable, luxuriously dressed and lavishly appointed, the Pacifica makes a minivan desirable in its own right. That's on top of all the useful qualities that minivans traditionally incorporate, like an enormous back hatch, and sliding side doors that provide easy entry and exit into an enormously roomy passenger cabin with flexible, fold-away seating that makes room for a lot of cargo as well.
"The space inside is incredible," stated Heney of Kelly Automotive. "Even in a big sport-utility vehicle, you don't have the space behind the third row that you do in a minivan."
Headquartered in Danvers, the Kelly dealer group includes Kelly Ford and Kelly Nissan in Beverly, Kelly Alfa Romeo, Kelly Infiniti, Kelly Maserti and Kelly Volkswagen in Danvers, Kelly Honda of Lynn, Kelly Jeep Chrysler and Kelly Nissan of Lynnfield, and Kelly Nissan of Woburn. Also, since the start of this month, Kelly has operated a new Methuen dealership. The company's Kelly Jeep Chrysler Dodge Ram was formerly Clark Jeep Chrysler Dodge Ram.
"It takes us to a new area where our name is well recognized and where we have a good reputation," said Heney about Kelly's expansion into Methuen.
Chrysler launched the Pacifica in 2016 as a 2017 model. It replaced the Chrysler Town and Country minivan. The name change to Pacifica seems appropriate, since the new model makes a big departure from previous generations of minivans, including the Town and Country. The first indication of that is the model's appearance. A large vehicle, the Pacifica uses the inherently long span of a minivan to good advantage. It has a stretched and streamlined profile, owing to its longish, up-sloping hood that kips just slightly steeper at the raked windshield, which rises to a long-running roofline that descends just gradually to the rear. In high-level, higher-priced models, that roof opens as a large, multi-paned moonroof that covers every passenger.
Chrysler – which is a brand of Fiat Chrysler Automobiles, an international company based in Italy –engineered the Pacifica to provide a placid, car-like ride. Its body weight is the lightest among minivans, according to Chrysler. That makes for easier steering, and it reduces unwanted movements like body roll when cornering. At the same time it is structured to have the strongest, most rigid body among minivans, the company states. That helps the Pacifica ride quietly.
The van can be purchased with seating for seven or eight. Second-row seats both recline and slide forward and backward to adapt their position for more passenger comfort. The operation of Chrysler's Stow 'n Go seats has been improved to make the second and third rows hide more easily into the floor, creating an enormous, flat-decked cargo area.
The model includes more than 100 standard or optional safety features. They include advanced systems like a 360-degree camera view when backing, plus
adaptive cruise control and forward collision prevention both with automatic braking. Driving aids include automatic perpendicular and parallel parking.
"It's comfortable. It rides nicely. It's safe. It's a front-wheel drive vehicle so it pulls you through anything," summarized Heney.
Standard versions of the Pacifica use a nicely powered V6 engine mated to a nine-speed automatic transmission. The new minivan also is available in a gasoline/electric hybrid-drive version that minimizes gas use.
Chrysler calls its Pacifica Hybrid the world's first electrified minivan – although, as a hybrid, it retains the model's standard gas engine to share propulsion duties with two electric motors. When its batteries are fully charged, it has a range of 566 miles on a tank of gas. When compared to a conventionally gasoline-powered vehicle, the Pacifica Hybrid earns an economy rating of 84 miles-per-gallon-equivalent, which factors in the added boost of electric power. The model is set up to cruise for about 30 miles on electric-power alone, with no aid from the gas engine.
Driving in silent, smooth rolling, all-electric mode gave me a unique sense of satisfaction in the Pacifica Hybrid I recently evaluated. I didn't expect to find the capability in such a large vehicle. When I did, I felt that I was experiencing something new, rare and unprecedented.
But then, that description also could apply to my impression of the Pacifica as a whole.
"The Pacifica is practical, but it's also fun," summarized Heney. "It shows that a person has a different outlook, that they're a good parent, but they also have some self-expression."
Jeffrey Zygmont is an author of fiction, non-fiction and poetry books, and a long-time auto writer. Contact him at
www.jeffreyzygmont.com
.
http://www.eagletribune.com/business/chrysler-pacifica-makes-soccer-moms-hip/article_574ce710-ef9c-5bdf-aa7e-01f174e83718.html