Chevy Blazer split headlights revealed in spy shots
The trend continues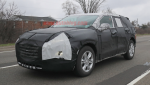 The upcoming Chevrolet
crossover
SUV, frequently
referred to as Chevy Blazer until the company officially announces the name
, has been spotted once again. This time,
Chevy
engineers left the
Blazer's
lights on, giving us a glimpse at some new design details. Up front it appears the Blazer will have split headlights, much like those seen on the
Hyundai Santa Fe
,
Hyundai Kona
, and the previous generation
Jeep Cherokee
. The main lamps are low in the front fascia, with LED running lights higher up. Between the lights is a large and low grille, the shape and size of which could be reminiscent of
the refreshed Malibu
.
Around the back, we can see a bit of the taillights. They look very similar to those found on the
Malibu
and
Equinox
, but they seem to have more pronounced LED elements that form little "Y" shapes. Another interesting note is that this model lacks the rectangular exhaust tip surrounds in the rear bumper
seen on another example of the crossover
. Instead, this Blazer just has simple half-circle cutouts in the rear bumper for the tips. As such, this is probably a lower trim version of the crossover.
Inside, there are no major revelations. This one does appear to use the
same type of climate controls as the Chevy Camaro
and the last prototype we saw. We can also make out the infotainment screen that protrudes up and away from the dashboard.
We do expect the new Blazer to fit somewhere
between the compact Equinox and the large Traverse
, since the last time we saw one testing, it was driving along with a
Nissan Murano
, a competing midsize crossover. With that size in consideration,
it could very likely use a version of the C1XX platform found underneath the GMC Acadia
, which also comes in at a slightly smaller size than the
Traverse
. It will likely feature a transverse mounted engine and both front-wheel-drive and all-wheel-drive drivetrains. We expect it will appear in production form sometime next year. Current
rumors
have the name as Blazer, but
TrailBlazer
is another distinct possibility for the crossover.
https://www.autoblog.com/2018/05/01/chevy-blazer-spy-shots/