CAUGHT: 2022 Jeep® Wagoneer (WS) Limited Out Testing:​
Premium Mainstream Wagoneer Caught On The Street...​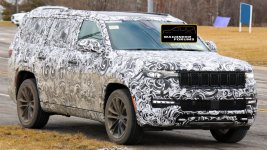 We have covered a lot of details about the upcoming ultra-premium 2022 Jeep® Grand Wagoneer (WS), which is scheduled to start production this summer. But we have only seen a few shots of the more mainstream 2022 Jeep Wagoneer model. You might be thinking isn't the Wagoneer and Grand Wagoneer the...
moparinsiders.com
Last edited by a moderator: