AUCTION: This 1955 Chrysler Windsor Deluxe Newport Is A "Spitfire"!​
Chrysler's Mid-Level Sporty Two-Door Hardtop...​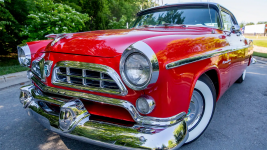 Under the supervision of
Chief Designer Virgil Exner
, the 1955 designers, engineers, and stylists created a long, low, and sweeping silhouette rather than the square, boxy cars Chrysler had been known for. Chrysler advertised the new cars look as the "
100 Million Dollar Look
"!
While the Chrysler New Yorker and 300 Series grabbed most of the attention during the year, the mid-level Windsor was a favorite among buyers. It represented the "sweet spot" of the Chrysler lineup and featured a standard 4.9-liter (301 cubic-inch) "Spitfire" V8, known as the "Poly" or...
moparinsiders.com