AUCTION: High-Velocity Yellow Demon-Powered Jeep® Gladiator Goes To Barrett-Jackson!​
840 Horsepower Supercharged Gladiator Will Cross With No Reserve In Scottsdale...​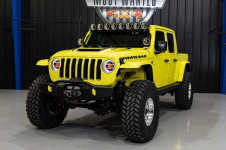 Our good friends at
America's Most Wanted 4×4 (AMW4x4) in Holly, Michigan
are known for building some of the most bad ass Jeep® vehicles on the planet.
Starting with a 2021 Jeep Gladiator Rubicon as its base, the AMW4x4 team built an amazing monster for the 2022 Barrett-Jackson Scottsdale event. Using its "AMW 1000" package,
the Gecko Green-colored Gladiator
featured the outlandish
7.0-liter (426 cubic-inch) HELLEPHANT HEMI V8
with a 3.0-liter IHI supercharger on top from the Mopar crate engine program. From the factory, the HELLEPHANT put out a whopping 1,000 horsepower and 950 lb.-ft. of torque at the crank without any modification.
Nicknamed "Highlighter", this latest project started to life as a 2023 Jeep Gladiator Mojave painted in the eye-catching High-Velocity Yellow. Thanks to some clever engineering using AMW4x4's turn-key Demon program, the Pentastar engine has been dumped in favor a supercharged 6.2-liter HEMI...
moparinsiders.com