AUCTION: Custom-Built 2006 Chrysler 300C SRT8 UTE:​
Custom Chrysler Performance UTE Goes Up For Sale...​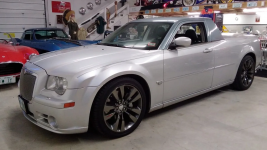 For the past several decades, both Australians and New Zealanders have embraced the UTE culture. UTE's offered passenger car performance and pickup truck utility. While America has had similar offerings throughout the years with vehicles like the Chevrolet El Camino, Ford Ranchero, and
Dodge Rampage
, none of them took off in the market as the Australian offerings did in Australia and New Zealand.
Although pickup trucks, crossovers, and SUVs continue to rule the automotive sales world, the Chrysler Group's big HEMI-powered sedans have stood their ground. But in 2006, one of those sedans caught a lot of attention from the international press: the 2006 Chrysler 300C SRT8.
moparinsiders.com