AUCTION: Bill Elliott's 2001 Daytona 500 Pole Winning NASCAR Goes Back To Mecum!​
The Dodge Brand's Halo Car For Its NASCAR Returns To Indy Event...​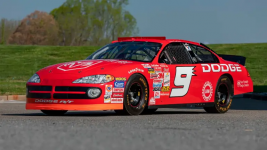 After not being snagged up last year, three-time NASCAR championship crew chief and former car owner, Ray Evernham is bringing back Bill Elliott's pole-winning car from the historic 43rd running of the Daytona 500 in 2001.
In 2000, Evernham bought 1988 NASCAR Winston Cup champion and car owner Bill Elliott's team from him to form Evernham Motorsports. Evernham Motorsports would be the halo team for Dodge's return to the Cup series. Evernham tapped Elliott to drive his No. 9 Dodge Dealers/UAW-sponsored Dodge...
moparinsiders.com