AUCTION: Beautiful 1961 Chrysler 300G Convertible!​
Formal Black, Golden Lion Power, & Soft Top...​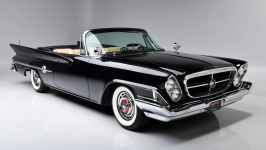 From 1955 to 1965, the Chrysler brand released a series of amazing high-performance luxury cars
branded as the 300 letter series
. Known as the "bankers hot-rod", the luxury coupes sat below the New Yorker in the lineup and were blazing fast on the street and the race track.
This beautiful 1961 Chrysler 300G convertible marks the third generation of the iconic nameplate. In 1961, 300G received a new grille design, a set of quad-headlamps that canted inward at the bottom, while the parking lamps below the headlamps were likewise slanted and V-shaped. The front bumper...
moparinsiders.com