AUCTION: 27,500-Mile 2004 Dodge Ram SRT-10 'VCA' Edition:​
The Rarest Ram SRT-10 Out There...​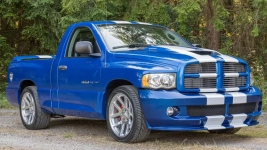 With 500 horsepower and 525 lb.-ft. of torque on tap,
the 2004 Dodge Ram SRT-10
was the ultimate performance truck in the mid-2000s. In today's market, the SRT-10 has become a highly sought collectible.
Of those trucks sold between 2004 to 2006, the rarest is the 2004 Dodge Ram SRT-10 special edition built for members of the Viper Club of America (VCA). Only 50 examples were ever built, each painted in the handsome combination of Electric Blue exterior paint and Bold White stripes. Dubbed the...
moparinsiders.com