AUCTION: 1996 Dodge Viper GTS Coupe With 4,600 Miles Go To Mecum Chicago!​
Viper GTS Coupes Have Been Racking In The Money At Recent Auctions...​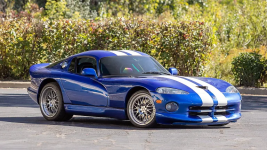 We have been
seeing Dodge Vipers going for record amounts
in recent months. As the industry moves forward with electrification, it seems that the V10-powered sports car is becoming even more desirable with petrolheads.
In its 25-year 'hissstory', there is one Dodge Viper that has become one of the most iconic and sought-after. The 1996 Dodge Viper GTS Coupe. As the first Viper model under the second generation (GEN II) banner, it marked the first time that creature comforts like air conditioning, roll-up...
moparinsiders.com