AUCTION: 1978 Jeep® Cherokee (SJ) Golden Eagle 4×4:​
The Original Vehicle To Kick Off The Term SUV...​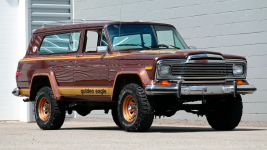 While many are familiar
with the iconic Jeep® Wagoneer (SJ)
, many aren't aware that actually launched the Wagoneer with both a two-door and four-door offering in 1963. In 1967, then Jeep parent Kaiser Jeep, ended production of the two-door model, to focus on the more family-oriented four-door offering.
However, it wasn't long after that competition from General Motors (GM), Ford Motor Company, and Chrysler would quickly make the Jeep brand rethink its position on the two-door model. Vehicles like the Chevrolet Blazer, GMC Jimmy, and Ford Bronco were quickly becoming ever so popular. Chrysler...
moparinsiders.com