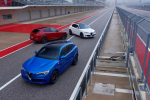 Alfa Romeo Launches Stelvio Quadrifoglio at Auto China 2018
Stelvio Quadrifoglio, Alfa Romeo's high-performance premium SUV, made its Asia debut at Auto China 2018, marking the arrival of the full Quadrifoglio family at China, an ultimate expression of Italian passion
As the world's fastest production SUV and boasting elegant design, roaring power and advanced technologies, Stelvio Quadrifoglio lives the soul of Alfa Romeo – Italian design, performance excellence and motorsport DNA
Stelvio Quadrifoglio is accompanied by a dynamic lineup of other vehicles that provide diverse choices for Chinese customers yearning for passion – premium SUV Stelvio, premium sporty sedan Giulia and the high-performance Giulia Quadrifoglio
Auto China 2018 is held from April 25, 2018, to May 4, 2018. The Alfa Romeo stand is located in Hall E1 in the New China International Exhibition Center of Beijing
April 25, 2018 , Beijing - Alfa Romeo Stelvio Quadrifoglio, the brand's high-performance premium SUV, today made its Asia debut at Auto China 2018.
Auto China 2018 is held from April 25, 2018, to May 4, 2018. The Alfa Romeo stand is located in Hall E1 in the New China International Exhibition Center of Beijing.
The first "Quadrifoglio" also to be an SUV. This is Stelvio Quadrifoglio, the new model with many class-topping features, which immediately becomes the new benchmark in the premium compact SUV segment. With its awe-inspiring design, performance and technology, Stelvio Quadrifoglio is the "fastest SUV around the circuit," having clocked the new record for its class on the iconic Nürburgring: 7 minutes 51.7 seconds.
Stelvio Quadrifoglio arrival also marks the availability of the full Quadrifoglio family in China, comprising an ultimate expression of Italian passion for China's performance car fans. It will also build a diverse, but passionate lineup with other models – premium SUV Stelvio, premium sports sedan Giulia and the high-performance Giulia Quadrifoglio.
FCA Media