AEV Comes Out With Retro-Themed Package For Its Gladiator JT370 / Wrangler JL370 Packages!​
Limited Edition "Classic" Models Add 1970s Touches To The Mix...​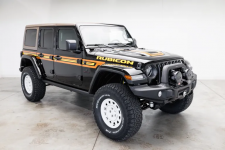 American Expedition Vehicles (AEV)
is known as a leader in the off-road industry. Over the past two decades, the Michigan company has worked alongside companies like Chrysler and General Motors to manufacture some incredible off-road and Overlanding machines.
But their latest offering adds some retro flare to the much beloved Jeep® Wrangler (JL) and Gladiator (JT). Meet the JL370 Wrangler Classic and JT370 Gladiator Classic packages. Both vehicles pay tribute to the 1970s, with retro colorways, unique exterior graphics, custom "Classic" dash panel...
moparinsiders.com